December 4th @ Space UNDER, Athens
We're excited to present the infamous swashbuckler, ragman rapper and yodel i'd M Thfft Able live performances in Athens and Thessaloniki!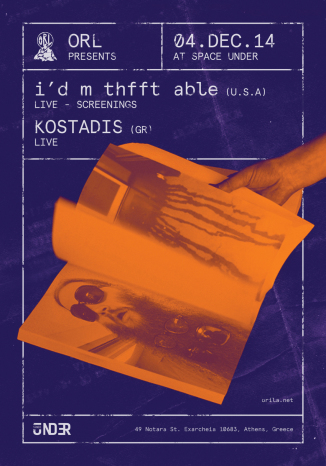 +
Thursday Dec 4th: i'd m thfft able Live, Screenings + KOSTADIS Live @ Space Under Athens
Grab this edition of one 10" lathe vinyl copy (I'd M Thfft Able Ft. Snoop Cat – Don't Cha) by coming to the Athens show and entering the draw!
20.00 – 20.45 i'd m thfft able screenings at the basement
21.00 – 22.45 KOSTADIS live
22.00 – 23.00 i'd m thfft able live
Watch KOSTADIS teaser for (t)his first solo performance.
Space UNDER Notara 49, Athens (Map) T: 210 8819752
Starts at 20.00, Entrance: 4Euros
Facebook event here.
                                                                                 ++
Saturday Dec 6th: i'd m thfft able + Mamaluma Live @ Protos Orofos Thessaloniki
Protos Orofos Olympiou Diamanti 20, Thessaloniki T: 2310 522587
Starts at 21:00, Donation entrance
For a complete listing of i'd m thfft able tour dates head here.
. /…