release date: September 28th, 2015
available format: Cdr, Digital
catalogue#: orl27
title: Live at La Bascule
artist: Gaspar Claus & Matthieu Prual
*
Content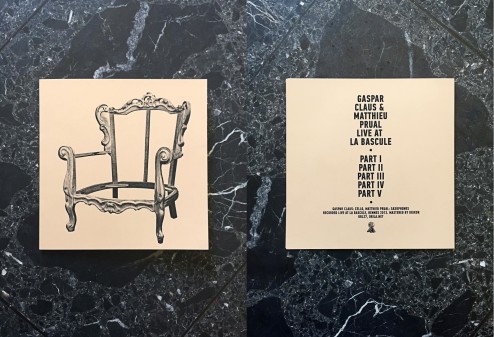 "Live at La Bascule" delivers an hour of improvised cello and modulating sax by these two French chevaliers, Gaspar Claus & Matthieu Prual. From absolute tonal chaos to its many live pauses this recording unearths the duet's cerebral performance in "La Bascule", this iconic bar in Brittany, where free-minded musicians often find space for expression. We hear Claus's cello expanding in sound, almost engorging the space as it grumbles and mourns, reaching a peak of expressiveness when it also acts as an anchor for the duo to develop their music from. At the same time Prual's sax delivers sophisticated, traditionally-tinged outbursts, painting the figure of a possessed, yet dignified breed. As far as improvised music goes, the music is free and open in the best sense of the words. Yet at certain moments the two musicians join each other into small leaps of faith and reduce their playing into small pointillistic gestures that highlight the expanses they travel over. It is without failure that the two allow the sounds and the emotion that they carry to inspire their actions, and thus formalise a music that breathes from the moment.
That evening on January '12 we were out of our minds, deep inside sound. And it was no surprise when we found out the recorder didn't function. Music killed the recorder. Music was stronger than it. But, a few months onwards there appeared a ghost recording, raised from the digital limbo as it was, lost in the winding of a sonophagous SD card, under the mysterious name of «STE 000». (GC, MP)
Stream the album:

Background
Gaspar Claus, a sinuous cross-country cellist who welcomes surprises, allows his unkempt technique to serve countless collaborations (with Jim O'Rourke, Sufjan Stevens, Rone or Angélique Ionatos). 
From improvised music (alongside Keiji Haino or Serge Teyssot-Gay) to contemporary music (with Bryce Dessner), all the way through flamenco (Pedro Soler and Ines Bacan) and pop (Barbara Carlotti, Peter Von Poehl), he represents those unhindered musicians for whom music is above all the manifestation of one's presence to the world, the celebration of a certain conception of friendship, togetherness, and the violence of pleasure. Values which he hexalts within Vacarme, a trio he established with the violinists Carla Pallone and Christelle Lassort. Matthieu Prual walks the musical world as a saxophonist, electroacoustic composer and improviser. Inclined to cross sound with words, drawings and works based on the human body he deploys a singular and expressive voice, in constant search of musical poetry.
Release Notes
270gms paper. Double black CDr. Sleeve Design by Bend. Mastered by Krikor. Edition of 100 copies.
Sold out
./ ..