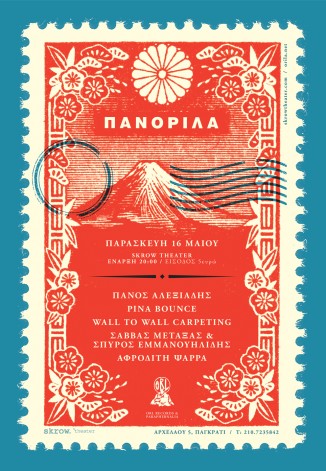 may 16th, 2014 @ Skrow Theater, Athens
Panorila: presenting a micrography of today's DIY sonic plateau with:
Panos Alexiadis, Pina Bounce, Wall To Wall Carpeting, Afroditi Psarra, Savvas Metaxas & Spyros Emannouilids.
+ pre-concert live performance by Debbie Thomas at 19:00 – Venue Tba.
http://debbiethomas.bandcamp.com
Panos Alexiadis, back from his mini UK tour & on the grounds of his latest release on Orila (ORL22).
http://soundcloud.com/alexiadis
Pina Bounce, the new solo project of Thalia Ioannidou (Drog_A_Tek, Minimaximum Improvisation, Lost Bodies) in her debut performance! A small excerpt of her upcoming release on Orila (ORL23/NB) can be heard here:
http://soundcloud.com/orila/pina-bounce-trumpetancy-1
Wall To Wall Carpeting, Giorgos Axiotis has released "Pilliad Echons" (ORL09) with this moniker, besides having performed solo as Turbo Teeth and with Balinese Beast, Bruised Lee, Free Piece Of Tape, Tom Cruisin' and Panos Alexiadis.
http://orilarecords.bandcamp.com/album/pilliad-echons
Afroditi Psarra, Arduino micro controllers and home made embroidered synthesizers in focus here from a very active new media artist, (ORL19).
Savvas Metaxas & Spyros Emanouilidis
After a number of concerts in Thessaloniki and Italy, this fledgling duet will perform for the first time in Athens. Tapes, field recordings & modular synths are the tools used in their live process. Metaxas released a self titled CDr on ORL (ORL13) back in 2013, while Emmanouilids is more likely to be identified for mastering a number of Orila releases and his work, behind the scene with Good Luck Mr. Gorsky and Granny Records.
http://soundcloud.com/savvas-metaxas-sounds/savvas-metaxas-spiros
Panorila
Friday May 16th @ Skrow Theater, Athens.
Starts at 20:00! Entrance: 5 Euros [Fb]
Skrow Theater
Arhelaou 5, Pagrati, 11635, Maps
T: 210.7235842
./ …