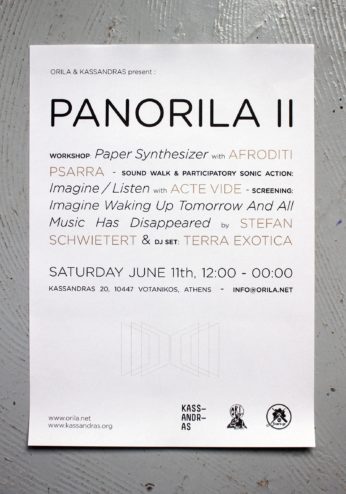 june 11th, 2016 @ Kassandras, Votanikos, Athens
Orila and Kassandras team up to bring you Panorila II. A one-day program of events aimed at introducing the practice of sonic awareness and a sequel to Panorila (May 2014, Skrow Theater, Athens).
Timetable:
12:00 – 17:00 Crafts and electronics "Paper Synthesizer" workshop with Afroditi Psarra.
17:30 – 18:30 Listen / Imagine sound walk and participatory sonic action with acte vide.
19:00 – 21:00 Screening of the music documentary "Imagine Waking Up Tomorrow and All Music Has Disappeared" directed by Stefan Schwietert.
21:00 – 00:00 Terra Exotica DJ Set.
***
Crafts and electronics "Paper Synthesizer" workshop with Afroditi Psarra.
What is the workshop?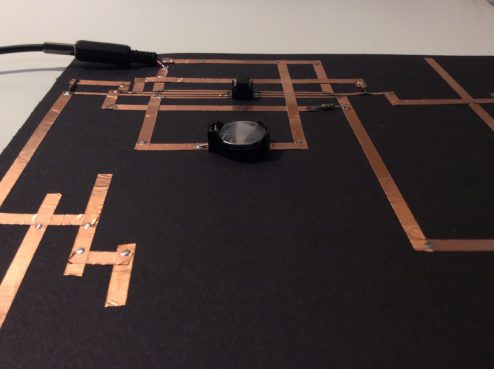 A practical workshop of experimental electronics and soft circuits. Soft circuits are electrical circuits created using flexible conductive materials (such as conductive threads, paper and fabrics) in conjunction with discrete electronics components (such as lights, batteries, switches and sensors). Through this workshop participants will be introduced to the basic principles of digital electronics construction and utilization of micro processors by building their own, custom paper synthesizer.  By using simple arts & crafts techniques we will explore the making of diy artifacts and experiment with the distinctive sound produced from these 8-bit circuits. At the end of the workshop participants will be invited to present their own, custom paper synths through a team improvisation session.
Who is it for?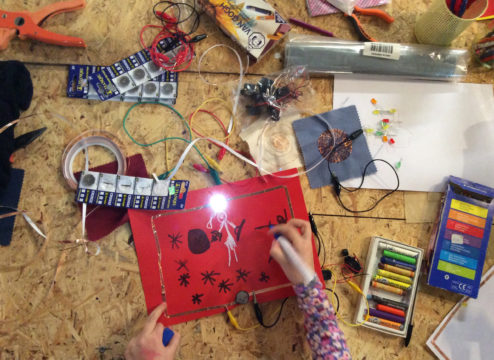 The workshop is for anyone interested in exploring the filed of digital 8-bit sound through diy artifacts. Previous experience on the subject is not a must have.
Duration:
5 hours (2 two hour sessions with a 45 minute break)
How to apply?
To apply for the workshop send an email to activities@orila.net with subject "Paper Synthesizer", your full name and a telephone number!
Workshop cost is 30 euros (tool kit included). Seats are limited.
A few words on the workshop leader Afroditi Psarra:
Afroditi Psarra, PhD (Athens, 1982) is a multidisciplinary artist working with e-textiles, diy electronics and sound. Her artistic interest focuses on concepts such as the body as an interface, contemporary handicrafts and folk tradition, pop iconography, retrofuturistic aesthetics and the role of women in contemporary culture. Her artworks include a wide variety of media and techniques that extend from embroidery, soft circuits, hacking and creative coding, to interactive installations and sound performances. She holds a PhD in Image, Technology and Design from the Complutense University of Madrid. Her academic research Cyberpunk and New Media Art focuses on the merge of science fiction ideas and concepts with performative and digital practices, and offers a philosophical, sociological and aesthetic analysis of the influence of new technologies in the contemporary artistic process. Her work has been presented at numerous platforms such as Siggraph in Vancouver, Ars Electronica in Linz, Transmediale and CTM in Berlin, Amber in Istanbul, Piksel in Bergen, Electropixel in Nantes and MakerFaire in Rome between others. She has worked as an intern on Wireless Communications and Mobile Computing at Disney Research Zurich.
She currently lives and works in Athens.
Listen / Imagine  sound walk and participatory sonic action with acte vide.
Two short activities where anyone with no prior knowledge can participate. The sound walk Listen will take place at the area of Votanikos and we will set off from the entrance of the building (Kassandras 20) at 17:30 exactly! The participatory sonic action Imagine will begin inside the building of Kassandras right after our return.
Be there 15 minutes prior to set off please!
acte vide: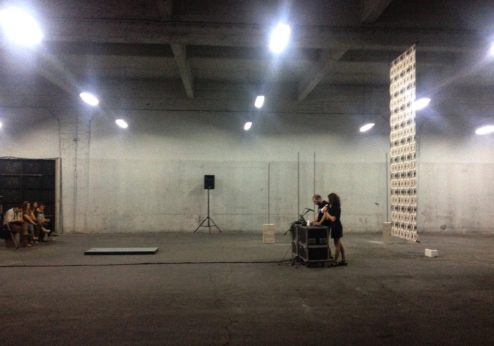 acte vide ("empty act") is the electroacousrtic duo of Yannis Kotsonis and Danae Stefanou. Active since 2006 as an improvisatory unit, they creatively explore the aesthetic potentials of noise,  collaborating frequently with a  wide variety of musicians, visual artists and directors. The duo has performed live in Greece and the UK and participated in several international festivals (Ιn Mute 2014, Borderline 2013, Festival du Film Francophone, Moving Silence, ΜΙR, Thessaloniki International Film Festival, etc). They also organise and convene music improvisation workshops for children and adults as well as residencies on sound art and site-specific sonic experimentation . Their first Cd Noeud was released on Moremars in 2011, while the majority of their releases are available for free on:
Screening of the music documentary "Imagine Waking Up Tomorrow and All Music Has Disappeared".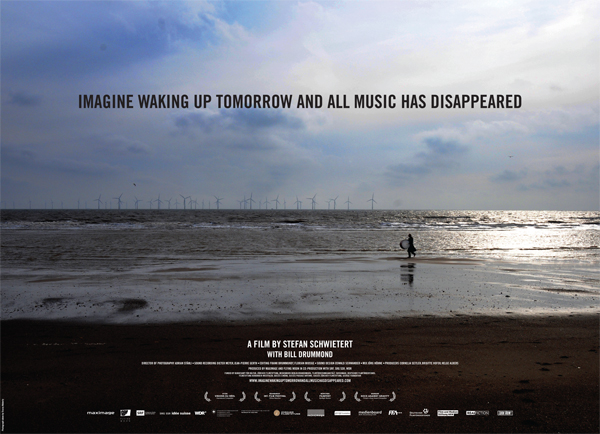 Early 90s and Bill Drummond alongside Jimmy Cauty were scouring the music industry with The KLF. The KLF suddenly dropped out of releasing records, and wiped the band's catalogue at the peak of their success. With the money made through their career they decided to film the burning of one million pounds and write a book about it. Since then Drummond has focused on touring the world with his impromptu choir The 17. Improvised recordings of pub regulars, hair dressers, construction workers and day care center students make up for the rhetorical question posed by the film's title:
"Imagine Waking Up Tomorrow and All Music Has Disappeared"
Directed and written by Stefan Schwietert
Director of Photography: Adrian Stähli
Editing: Frank Brummundt, Florian Miosge
Year of production: 2015
Country of production: Switzerland, Germany
Language: English
Here is the trailer:

Duration: 86′
We would like to thank Maximage Filmproduktion.
Terra Exotica DJ Set. 
Chysostomos Lazaridis aka Terra Exotica has a strong liking for a wide range of music styles.  He has performed as a guest DJ at notorious clubs like Salon des Amateurs in Düsseldorf and King Georg in Cologne. His mixes have also been showcased in radio stations such as NTS Radio and Intergalactic FM.
Check his rad mix for this years Fasma festival:

https://soundcloud.com/terra-exotica
***
Panorila II, Saturday June 11th from 12:00 till 00:00
Kassandras is a hybrid space situated in an unfinished building in Athens' Votanikos district. A space where contemporary practices can find a ground for breeding and experimentation in a given environment, that of Greece today.
Kassandras 20, Votanikos, 104 47, Athens | Map
Admission is free to all activities expect the "Paper Synthesizer"workshop.
We are raffling a 3D-printed slide projector built by our good friends at Fixers.gr at the end of the night.
./ ..